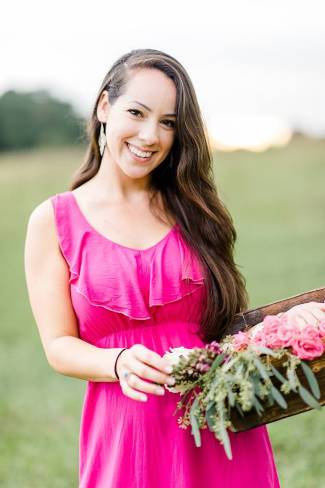 My grandmother was a remarkable woman. As the proud owner of a beautiful bed and breakfast, she would get up each morning before the sun would rise and bake fresh muffins, quiche and pastries for her guests. Her kitchen smelt of  sweet treats, and her house was always filled with warm candles &  fresh cut  flowers from her garden.  Some of my favorite memories of her are from my time spent helping her prepare the inn for guests. I am forever thankful for the inspiration she sparked in me from a young age and the lessons she taught me in good ole' southern hospitality.
When I started Sweet SaraBelle, I knew I wanted to provide  a unique service to brides that made the planning process easy and fun. I knew I wanted to be different, and go outside the box of traditional  wedding planning by providing a true, full  service,  experience.  Above all, I wanted to work with sweet brides to dream big and  make their perfect day  come true. Somehow, with lots of loving support from my better half and an wonderful  team- this beautiful idea became a reality.
Each day I wake up blessed to work with amazingly creative people who share my passion in providing quality customer service. The entire Sweet SaraBelle team,  as well as our fellow friendors,  take a hands on, team approach to wedding planning, for a whole new level of service that is  truly  memorable.
I am so thankful for all of the sweet couples  that have made this adventure the beautiful existence that is Sweet SaraBelle and I am so excited to see where the future takes us.
I look forward to  meeting you, serving your family, and making your  wedding dreams come true!
       xoxo 
Sarah
---
Sweet SaraBelle was started with a very simple vision:   provide  top notch

quality  

  service at an affordable rate.    
Our dedicated team focuses on the details so that you can focus on making this the Best. Day. Ever. 
---
* The beautiful flowers that make up our garden  *